---
---
Success Stories
A mom was court-ordered to attend EPIC parenting classes as a condition of reuniting with her two children in foster care. She was very guarded at first, stating that some agencies immediately judged her because her children were in foster care. Over time she began to open up and share some of the issues with which she struggled. Her demeanor had completely changed when she successfully completed EPIC. She also made progress toward major goals of finding a job and her own place to live, both necessary for reunification. She said that succeeding in EPIC gave her extra confidence toward providing a safe, happy home for her children.
Recently, the Project Independence (PI) program proudly announced the highest number of participants to achieve academic success at one time, including college, high school and GED graduates. This success came with much support from the PI staff. As one graduate stated, "If it wasn't for this program I probably would have never gotten my GED because no one was encouraging or pushing me to do so before I got here." Furthering education is a big step towards securing a more stable future for these young families.
---
Camp Life brings many foster youth and caring adults together. Camp introductions often blossom into permanent connections that change lives. At Camp Life , two campers and a staff member met for the first time. They remained in contact after camp and built a strong relationship that developed over time into a family dynamic. At the CAS Leadership Conference, the boys' social worker asked to learn more about the camp staffer who had become so important to them that the boys expressed hope that he would adopt them. This hope was mutual and the adoption process began in earnest that summer. These three, who met by chance and became bound by love, are now completing the steps necessary to become a forever family.
---
Letter From Camp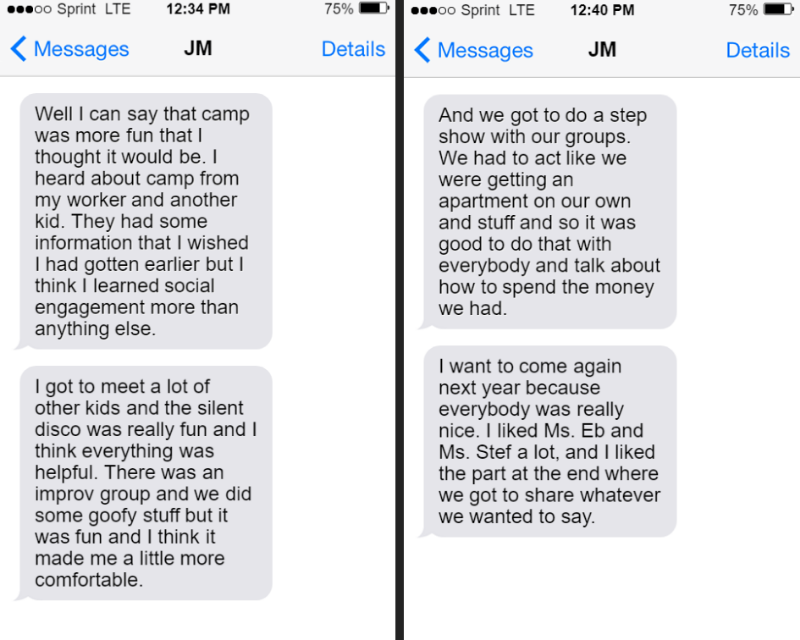 ---
Josh and I felt called to adopt. We'd heard stories of teens aging out of the foster system without ever having had a family, and hoped to welcome a teenage boy into our home. Adoption research led us to CAS, where comprehensive pre-adoption training prepared us well for the transition and gave us confidence to consider three children who had been in 10 foster homes, never attending a school more than two years in a row. We met these precious children and, in December 2012, became a family! We thought we wanted one teenage boy, but we fell in love with three pre-teen siblings. We are so happy we made that call, and so thankful for the preparation and support provided by CAS.
---
CAS offers Let's Talk!, a monthly discussion group for adults who were adopted. This is not a therapy group, but rather a space for shared experiences. One of the participants explains Let's Talk!:
"I'm 43 years old. I was adopted when I was 2 months old. In my lifetime I have only met one person that I knew was adopted and that was not a personal friend. The opportunity to participate in Let's Talk has provided me with the first opportunity to meet with a group of other adopted people and have an open discussion about how being adopted has impacted my life. It was really an amazing feeling to hear other people tell their stories and how similar their stories were to mine. It is much easier to discuss your experiences with other people who have something in common, especially when it involves a topic that is not common to many people."
---
Ms. Harris and her three small children lost their home due to an abusive relationship and DHR was considering removing the children from her care. Family Partners helped her locate emergency housing through the Homeless Coalition, then supported her through the public housing application process. After she secured an apartment, FOCUS helped her find resources to pay utility deposits and located donated furnishings. Mother and children are now living safely on their own for the first time. DHR was pleased with their progress and did not pursue removal of the children. Ms. Harris reports feeling pride and a sense of accomplishment at how far she has come and her newfound ability to manage her household and live independently.
---
*All names and pictures were changed to protect the confidentiality of our clients.
---
---