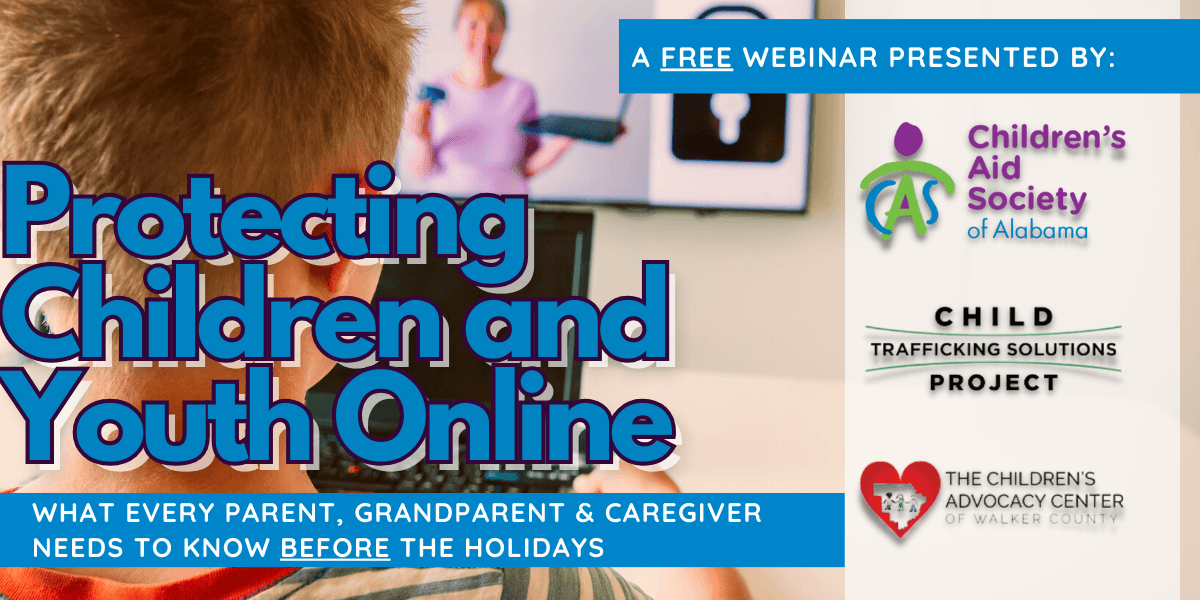 Join Us for a FREE Webinar on Internet Safety! 

The Children's Aid Society of Alabama's Child Trafficking Solutions Project, in partnership with The Children's Advocacy Center of Walker County, is excited to present this relevant event: Protecting Children and Youth Online: What Every Parent, Grandparent, Caregiver Needs To Know BEFORE the Holidays.
Date: November 21, 2023
Time: Two options available 12:00 pm - 1:00 pm or 6:00 pm - 7:00 pm CST 
 Location: Online, the ZOOM link will be sent once you register. Visit Our online calendar to select the time that works best for your schedule.
Prepare to Increase the Safety of Your Loved Ones Online

In today's digital age, safeguarding our children online is more vital than ever. The internet is teeming with new apps, games, and websites, making it challenging for parents, grandparents, and caregivers to stay ahead. Child Trafficking Solutions Project and the Children's Advocacy Center of Walker County, recognizes the urgent need to address this issue.
 Focus Areas:
- Recognizing potential danger
- Communicating effectively with your child or teen about online safety
- Steps to take if you suspect your child may be at risk
Interactive Format:
- Engage in a LIVE Q & A session
- Gain access to valuable resources and materials
- Learn from professionals

Join our trainers as they guide you through the ever-evolving landscape of online risks and equip you with the tools to create a safer online environment for your children and teens.

Additional Information:

Contact: ctspinfo@childrensaid.org with any questions
Spread the word - share this event with friends and family
Let's unite for the safety of our children!