APAC Webinars
APAC offers free educational training via webinar on adoption related topics. Live webinars are presented once a month and recorded webinars are available on demand through our APAC Online Training site. Webinars can be accessed by anyone throughout the state with access to the internet. 
Register for any of our upcoming webinars! If none are listed, check back soon or like our Facebook page for updates. 
All of our training event times are listed in Central Standard Time (CST)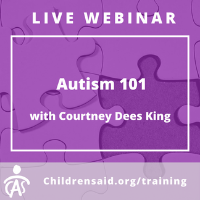 DESCRIPTION:
This webinar will review autism spectrum disorders and will address common behaviors exhibited by individuals with autism. Testing, interventions, and practical suggestions will also be discussed.
Topics to be covered:
What is autism?
Autism statistics
Common behaviors and strategies
Testing for autism
Interventions for Autism
SPEAKER:
Courtney Kingis a Licensed Behavior Analyst in Birmingham, Alabama. She has a Masters Degree in Behavioral Psychology from Jacksonville State University and became a Board Certified Behavior Analyst in 2004. Courtney is the Founder and Executive Director of The Alabama Autism Assistance Program and The HANDS Program. These organizations provide multiple opportunities for individuals with autism of all ages including applied behavior analysis therapy, social skills groups, sports activities, and financial assistance. Courtney has been working with individuals with autism since 1996. During those years she worked at The Autism Society of Alabama, Mitchells Place, and as a private therapist. She started The HANDS Program in 2006. HANDS now has 2 locations in Birmingham and Tuscaloosa.i
REGISTRATION and CONTINUING EDUCATION:
As with all of our APAC services and events, admission to this training is FREE for all attendees and this includes a General Certificate of Attendance for foster parents and other attendees seeking attendance verification. Professional Social Work and Counseling CE verification can be purchased for $10 for live participation.
Participants must attend the entire webinar to qualify for continuing education verification. (Minimum of 45 minutes to account for possible technical difficulties or delay.)
You will be provided a link to join the webinar but also an audio number in the event you do not have computer speakers/audio. Participants who only join through the phone number only will not be eligible for continuing education verification.
NOTE: The CE fee is waived for all Alabama DHR staff.
Cancellation Policy: In the event you cannot attend the live webinar, notify us at training@childrensaid.org before the conclusion of the training and we can issue a refund for continuing education cost. Unfortunately, we cannot issue credits for future events.
Social Work self-study CEs for this course will soon be available in the APAC Online Training site for $15.
CAS is an approved Continuing Education Provider for ABSWE (#0039).
Children's Aid Society is an NBCC-Approved Continuing Education Provider (ACEP) and may offer NBCC-approved clock hours for events that meet NBCC requirements. Children's Aid Society is responsible solely for all aspects of the program.
(NBCC Provider #6459)
If you have questions, please contact our training staff at training@childrensaid.org, or call 866-803-2722.
---
Save the date for our upcoming webinars
Save the date for these upcoming webinars. Registration will open soon!
---
Recorded Webinars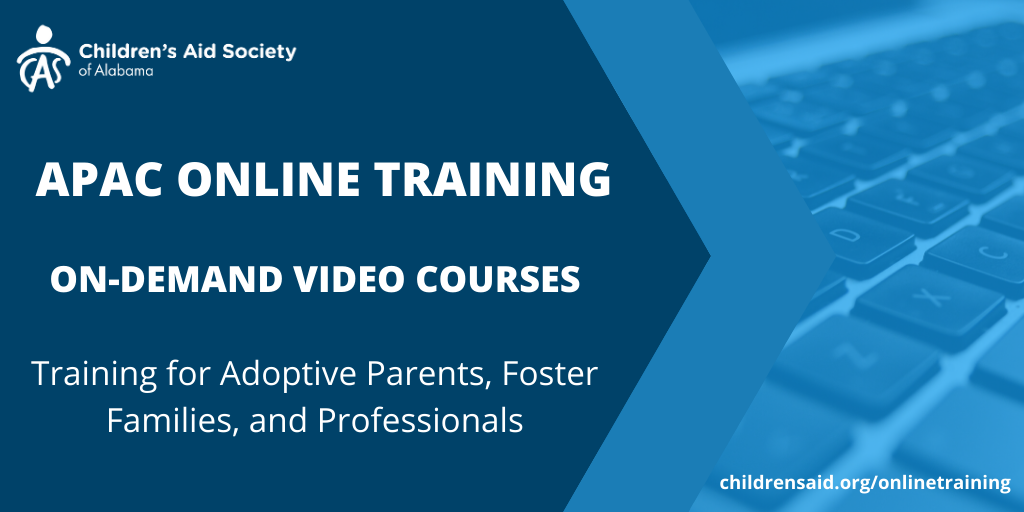 APAC recorded webinars are available for FREE in our "APAC Online Training" center on our website. You can easily access pre-recorded webinars, and obtain continuing education hours instantly through this on-demand video website. Instant general participation certificates are also available and can be used in exchange for annual Foster Parent hours. Parents or professional who miss our monthly live webinars can now conveniently access the webinars anytime day or night!
We also offer certified self-study courses for social workers seeking to purchase non-live continuing education!
Get started! The webinars can easily be accessed (and still FREE for parents and professionals) by registering at: www.childrensaid.org/onlinetraining.
For questions feel free to reach out to our training team, training@childrensaid.org or call 866-803-2722.