APAC Webinars
APAC offers free educational training via webinar on adoption related topics. Live webinars are presented once a month and recorded webinars are available on demand through our APAC Online Training site. Webinars can be accessed by anyone throughout the state with access to the internet. 
Register for any of our upcoming webinars! If none are listed, check back soon or like our Facebook page for updates. 
All of our training event times are listed in Central Standard Time (CST)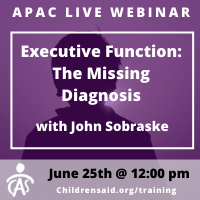 DESCRIPTION:
For many years, certain diagnoses have had prominence in people's minds when going through a checklist of possible challenges for foster and adopted children. These include the pain of relinquishment, issues of identity and belonging, attachment, and trauma. In the field of children's mental health, attention deficit hyperactivity disorder, depression, and anxiety have been notable—the latter two being conceived in broader ways that apply even to young children. Bipolar was added to this list not long after. Recently attention has been focused on fetal alcohol syndrome and autism spectrum disorder. Related to school and academics, learning disabilities were emphasized alongside ADHD. Much as trauma used to refer to a specific neurohormonal stress reaction pattern, but was broadened to include neglect and abandonment as well as sexual, physical and emotional abuse, so too, executive function is increasingly being defined as more than academic problems of thinking and memory, and more broadly to the complex functions of thought, feeling, relating and self-regulation. This area is not often included in diagnostic check-lists but may in fact be the most central concern affecting a child's ability to manage in life.
OBJECTIVES:
1. Be able to provide a broad definition of executive function as it relates to several areas of functioning.
2. Name 3 specific challenges common in many individuals who have executive function deficits.
3. Describe 3 causes of executive function difficulties etiologically.
SPEAKER:
John Sobraske, LMHC, LMFT graduated phi beta kappa from Stanford University. He received his masters in clinical psychology from JFK University, a postgraduate certificate in adoption psychotherapy from Hunter College and a certificate in contemporary psychoanalysis from the National Institute of the Psychotherapies. As a graduate fellow at the University of Minnesota, he participated in research on open adoption and early stress. In his clinical work, John specializes in adoption and foster care. He works with a diverse, multicultural population and with many LGBTQ individuals. John has expertise in attachment, trauma, executive function, autism, fetal alcohol, personality disorders and mindfulness. Research interests include adoption history, anthropology, mythology, and media. In addition to his work as a psychotherapist, John completed four-year certificates in Traditional Chinese Medicine and Homeopathic Medicine in support of his work as a holistic practitioner. He practices and teaches qigong and meditation. He is also a divorce mediator and serves as a facilitator and child specialist in collaborative divorce. John is a national trainer in adoption, psychotherapy, holistic medicine and collaborative divorce. Learn more about John by visiting https://www.adoptioncenterofupstateny.com/
REGISTRATION and CONTINUING EDUCATION:
As with all of our APAC services and events, admission to this training is FREE for all attendees and this includes a General Certificate of Attendance for foster parents and other attendees seeking attendance verification. Professional Social Work and Counseling CE verification can be purchased for $10 for live participation.
Participants must attend the entire webinar to qualify for continuing education verification. (Minimum of 45 minutes to account for possible technical difficulties or delay.)
You will be provided a link to join the webinar but also an audio number in the event you do not have computer speakers/audio. Participants who only join through the phone number only will not be eligible for continuing education verification.
NOTE: The CE fee is waived all Alabama DHR staff.
Cancellation Policy: In the event you cannot attend the live webinar, notify us at training@childrensaid.org before the conclusion of the training and we can issue a refund for continuing education cost. Unfortunately, we cannot issue credits for future events.
Social Work self-study CEs for this course will soon be available in the APAC Online Training site for $10.
CAS is an approved Continuing Education Provider for ABSWE (#0039).
Children's Aid Society is an NBCC-Approved Continuing Education Provider (ACEP) and may offer NBCC-approved clock hours for events that meet NBCC requirements. Children's Aid Society is responsible solely for all aspects of the program.
(NBCC Provider #6459)
If you have questions, please contact our training staff at training@childrensaid.org, or call 866-803-2722.
---
Save the date for our upcoming webinars
Save the date for these upcoming webinars. Registration will open soon!
---
Recorded Webinars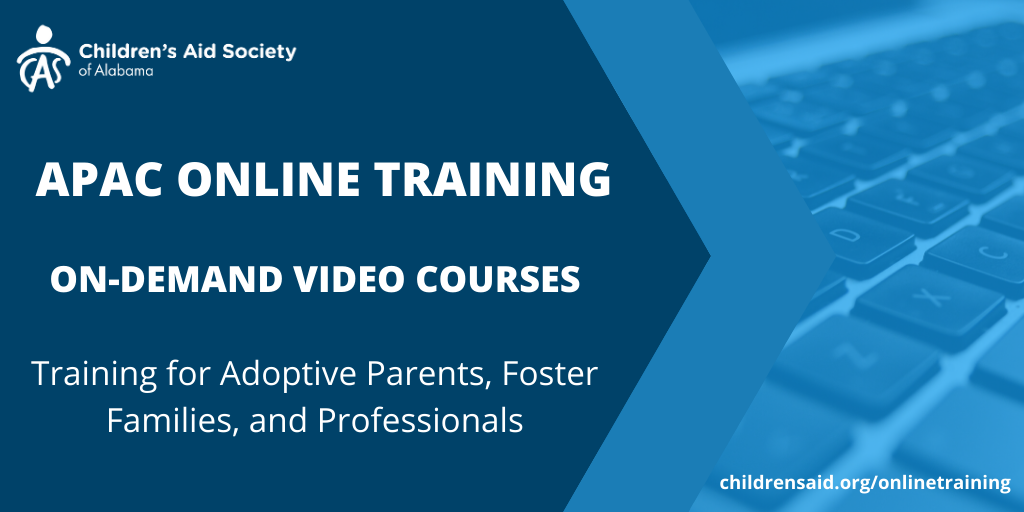 APAC recorded webinars are available for FREE in our "APAC Online Training" center on our website. You can easily access pre-recorded webinars, and obtain continuing education hours instantly through this on-demand video website. Instant general participation certificates are also available and can be used in exchange for annual Foster Parent hours. Parents or professional who miss our monthly live webinars can now conveniently access the webinars anytime day or night!
We also offer certified self-study courses for social workers seeking to purchase non-live continuing education!
Get started! The webinars can easily be accessed (and still FREE for parents and professionals) by registering at: www.childrensaid.org/onlinetraining.
For questions feel free to reach out to our training team, training@childrensaid.org or call 866-803-2722.