APAC Webinar- The Hard-to-Motivate Child: Helping Children Who Resist Traditional Rewards and Punishments with Michelle Pruett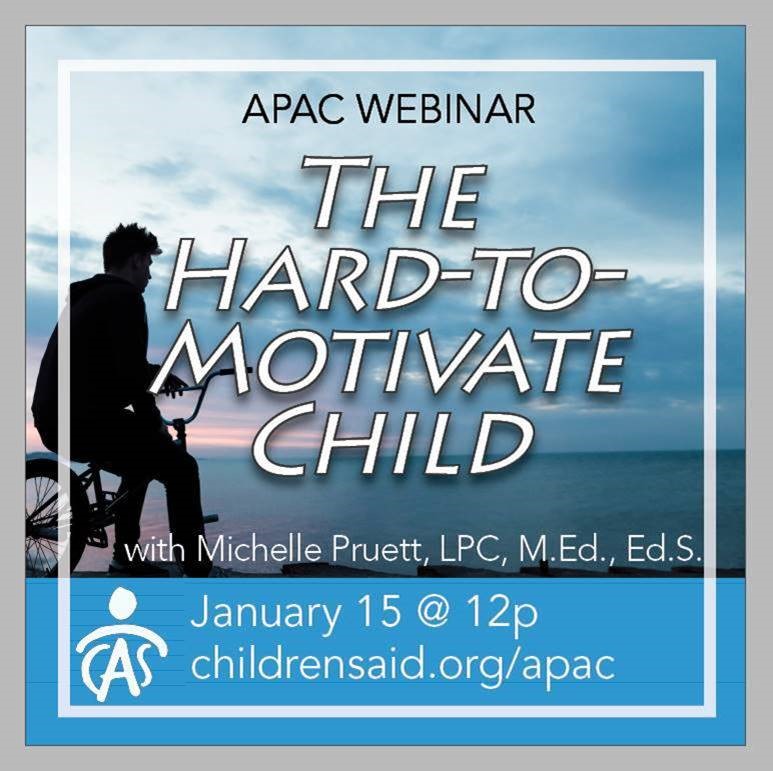 DESCRIPTION:
No matter how hard their parents try, some children resist traditional parenting techniques. For these children, neither rewards nor punishments consistently work to change behavior. Therapists supporting these families sometimes struggle to find creative interventions to help parents better guide their children. In this training, Ms. Pruett will explain why certain children resist traditional parenting approaches and how therapists can help both families and children be successful. Ms. Pruett also will offer tips for overcoming objections parents might have in trying the new approach.
Topics to be covered include the following: Types of hard-to-motivate children; reasons children resist traditional parenting strategies; an approach to parenting children that reduces power struggles and increases compliance; potential obstacles to implementation and strategies for overcoming those barriers.
OBJECTIVES:
1) Participants will learn to identify common behaviors of children who resist traditional parenting approaches.
2) Participants will understand approaches that are unlikely to be successful in motivating children to engage in positive behaviors.
3) Participants will learn a three-pronged reward/consequence approach to teach parents in motivating their children and under what circumstances each prong is appropriate.
4) Participants will be able to identify common barriers to helping parents implement the new approach with strategies for overcoming those barriers.
SPEAKER:
Michelle Pruett, LPC, M.Ed., Ed.S. has been a therapist specializing in helping children and families for almost 20 years. Since opening her private practice, Pruett Counseling and Consulting, in 2012, she has focused on helping families whose children have experienced trauma, especially children who are adopted or have been in foster care. Through the lenses of Attachment Theory and Trust-Based Relational Intervention (TBRI), Ms. Pruett guides families toward greater health and closeness. She also provides Eye Movement Reprocessing and Desensitization (EMDR) to help children and adults heal from trauma. Ms. Pruett is passionate about supporting therapists and educators in understanding the needs of children who have experienced trauma and provides training in communities around Alabama throughout the year.
REGISTRATION:
As with all of our APAC services and events, admission to this training is FREE for all attendees and this includes a General Certificate of Attendance for foster parents and other attendees seeking attendance verification. Professional Social Work and Counseling CE verification can be purchased for $10 for live participation.
NOTE: The CE fee is waived all Alabama DHR staff.
Social Work self-study CEs for this course will soon be available in the APAC Online Training site for $10.
CAS is an approved Continuing Education Provider for ABSWE (#0039).
Children's Aid Society is an NBCC-Approved Continuing Education Provider (ACEP) and may offer NBCC-approved clock hours for events that meet NBCC requirements. Children's Aid Society is responsible solely for all aspects of the program.
(NBCC Provider #6459)
If you have questions, please contact our training staff at training@childrensaid.org, or call 866-803-2722.