APAC Webinar: Talking to Kids about Sexual Abuse Prevention with Debra Schneider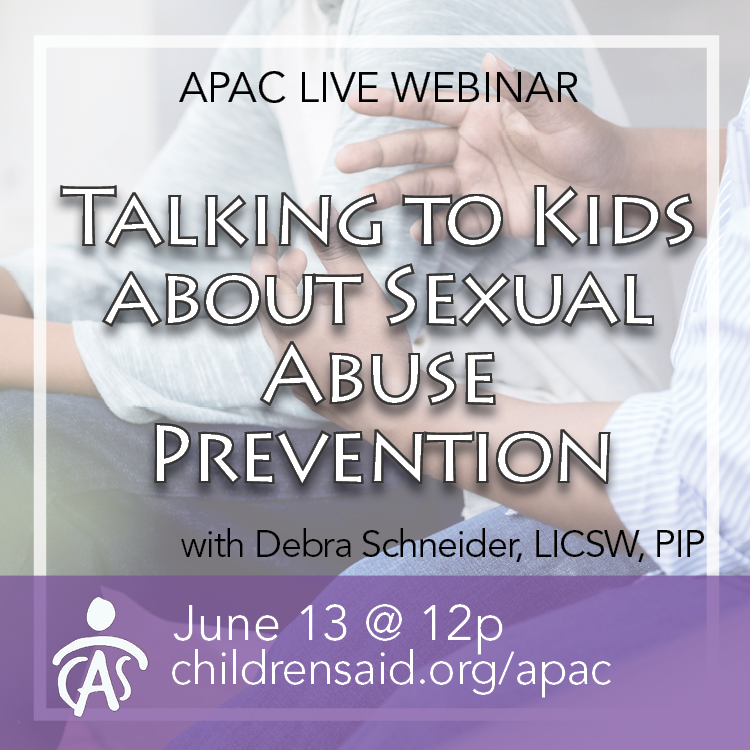 DESCRIPTION:
Sexual abuse has been considered a taboo subject for years. It was once thought as a dirty little secret. Well, no more secrets! We need to empower ourselves and children with knowledge and safety plans of action. This webinar is intended to assist caregivers and professionals with key learning objectives and strategies to make teachable moments and conversations easier and more productive.
Deb Schneider's passion is prevention awareness and prevention education. Her interactive, light-hearted approach to this difficult subject makes the educational and conversational components for adults and children to feel more powerful.
Topics of discussion:
Understanding the scope of sexual abuse
Myths and facts of sexual abuse
The grooming process
How to address the topic of sexual abuse awareness and prevention with children
Safety plans
What to do during and after disclosure of suspected sexual abuse
SPEAKER:
Debra Schneider, MSW, LICSW, PIP is the Executive Director and founding team member of the CHIPS Center. CHIPS is Children's Hospital Intervention and Prevention Services and is the child abuse center for Children's of Alabama. Deb has experience as a medical social worker, therapist, forensic interviewer, and has developed sexual abuse prevention education programs along with coauthoring resource books for children and caregivers. In her current role as director, she supervises the CHIPS team, has a small counseling caseload, and provides prevention education presentations for professionals, children, parents, and the community.
REGISTRATION:
As with all of our APAC services and events, admission to this training is FREE for all attendees and this includes a General Certificate of Attendance for foster parents and other attendees seeking attendance verification. Professional Social Work and Counseling CE verification can be purchased for $10 for live participation.
NOTE: The CE fee is waived all Alabama DHR staff.
Social Work self-study CEs for this course will soon be available in the APAC Online Training site for $15.
CAS is an approved Continuing Education Provider for ABSWE (#0039).
Children's Aid Society is an NBCC-Approved Continuing Education Provider (ACEP) and may offer NBCC-approved clock hours for events that meet NBCC requirements. Children's Aid Society is responsible solely for all aspects of the program.
(NBCC Provider #6459)
If you have questions, please contact our training staff at training@childrensaid.org, or call 866-803-2722.