APAC Webinar- Embracing Uncertainty and Change: Helping Kids Handle Unknowns with Less Struggle and More Resilience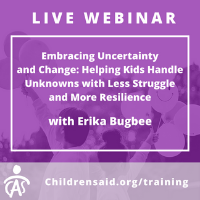 DESCRIPTION:
Kids with tough beginnings have to navigate so many challenges and unknowns as part of their everyday lives, but oftentimes don't have the tools and relationship bonds that adults have to help them navigate these. As a result, kids often react to the stress or tension by withdrawing, acting out, getting hostile, or spiraling into anxiety or emotional upset. Fortunately, just like when we're struggling ourselves, it often takes just a moment of support from someone in their corner to help them get their bearings back. This presentation will provide a better understanding of how caregivers and helping professionals can support kids struggling with life's uncertainties in a way that brings out their natural resilience.
SPEAKER:
Erika Bugbee earned a bachelor's degree in Counseling Psychology from the University of Oregon, and master's degree in Marriage and Family Counseling from City University in Bellevue, Washington. She then spent 19 years as a partner at Pransky and Associates, a consulting and coaching practice in La Conner, Washington. There she co-founded the Online Learning Division of the company and co-created a suite of online courses on personal development and relationships that have reached 35 countries around the globe. She is passionate about helping others who are struggling to feel a sense of connection, relief, and control and she often speaks at conferences both nationally and internationally. While she loves working with all types of people, she's discovered a particular talent and passion for helping teens, young adults, and couples or individuals looking for relationship help.
REGISTRATION and CONTINUING EDUCATION: (1.5 CEs for Social Work and Counseling)
As with all of our APAC services and events, admission to this training is FREE for all attendees and this includes a General Certificate of Attendance for foster parents and other attendees seeking attendance verification. Professional Social Work and Counseling CE verification can be purchased for $10 for live participation.
Participants must attend the entire webinar to qualify for continuing education verification. (Minimum of 75 minutes to account for possible technical difficulties or delay.)
You will be provided a link to join the webinar but also an audio number in the event you do not have computer speakers/audio. Participants who only join through the phone number only will not be eligible for continuing education verification.
NOTE: The CE fee is waived all Alabama DHR staff.
Cancellation Policy: In the event you cannot attend the live webinar, notify us at training@childrensaid.org before the conclusion of the training and we can issue a refund for continuing education cost. Unfortunately, we cannot issue credits for future events.
Social Work self-study CEs for this course will soon be available in the APAC Online Training site for $15.
CAS is an approved Continuing Education Provider for ABSWE (#0039).
Children's Aid Society is an NBCC-Approved Continuing Education Provider (ACEP) and may offer NBCC-approved clock hours for events that meet NBCC requirements. Children's Aid Society is responsible solely for all aspects of the program.
(NBCC Provider #6459)
If you have questions, please contact our training staff at training@childrensaid.org, or call 866-803-2722.