Adoption: A Definition From The Heart 
Written by: Kristan Johnson, An Adoptive Parent 
Adoption: the action or fact of legally taking another's child and raising it up as one's own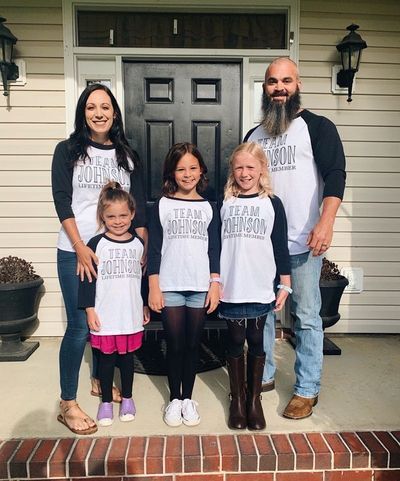 This definition makes it seem very matter of fact; easy, even. I would like to take this definition and break it down piece by piece to give a bigger picture of what adoption is truly like.  
"The action"- Bringing a non-biological child into your home and choosing to love him or her as if they WERE your biological child. It's a choice; it's an action. And it's something you must wake up with the intention to do each and every day. You will not be prepared to experience a child who is radically different from you- in appearance, in demeanor, in personality. You just have to experience it. And lean into it. And trust the process, because it is truly that- a process. You will not love this child as your own at first. Everything that makes this child different from you will stare you in the face every day. It will make you question your decision of disrupting your previously harmonious home. It will make you question if your life will ever feel "normal" again. It will [feel normal again]. And it will be even more wonderful and full than it was before.
"Fact of"- This child will come into your life and it will be sunshine and roses and rainbows... for a while. Then things will start to settle and you start to meet the real child- all of the child. Not the child who is putting on a show and trying to impress you. Not the child who desperately wants you to like them so that they don't have to move again. 
Your child will start to become more comfortable with you and you'll start to notice things about him or her- triggers, moods, fears. Some days they will shut you out. Some days they will melt into a puddle in your arms. Some days you will work tirelessly to peel back every layer of this child to find out how to reach them. There will be tough days when their trauma resurfaces and they miss their family; you will hold them and help them through it. And one day, you realize that you've fallen madly in love with this kid and that they've become a part of you, like a limb, just like your other children. Parenting an adopted child, especially one who has experienced trauma, will be different. You will have to change the way you view things and adopt a new mindset. It will grow you and stretch you in ways that are so unexpected, and yet so beautiful. 
"Legally"- The finalization of an adoption reminded me a lot of the day my husband and I married. The judge explains that in finalizing this adoption, you now have a legal obligation to this child; to protect them, provide for them, love them. A lot of the verbiage is the same. 
At this point, things are final and there is no turning back. Your baby gets a new birth certificate, a new name, a new official "family." Your new son or daughter may not be as excited as you are- or maybe just not only excited. They may also feel sad- this is severing their last tie to their birth family. They no longer belong to them, but belong to you. Again, we grow and adjust and love them through it. 
"Taking another's child"- Whew. I'll admit this one is tough for me. At this point, you've probably googled or Facebook stalked biological parents and you've formed your opinions. You've judged them; you've criticized their life choices. Please try not to judge too harshly, and try to make it a point to never talk negatively about your child's birth family. This is where your baby came from. If you cannot respect them for anything else, you can acknowledge that without them, you wouldn't have this child to love. And every child is a gift and a blessing from God. None of us want to be forever judged and condemned by the most difficult decision we've ever made, especially in the face of extreme duress. 
"Raising it up as one's own"- My adopted daughter is different from my two biological children in almost every way. Where my two biological daughters and very girly, my adopted daughter is a Tomboy. Where my biological daughters are affectionate and calm, my adopted daughter is emotionally reserved and very hyperactive. Where my biological daughters look like my husband and me, my adopted daughter looks nothing like us. However, through shared experiences and time, my daughters have grown to love each other fiercely. My husband and I love our adopted daughter completely, as though she was born of our marriage. We are family. Love has bonded us eternally. 
If you have ever felt the "tug" on your heart towards adoption, I urge you to follow through. If you are in the thick of hard times or rough patches in an adoption, I urge you to endure. It is not easy. Things that matter rarely are. Your child is worth the fight and there is so much beauty waiting on the other side.