APAC offers free educational trainings on adoption related topics via webinar approximately 12 times a year. Webinars can be accessed by anyone throughout the state with access to the internet. Currently, we have the capacity to serve up to 1000 individuals/computers during a live webinar presentation.
---
Upcoming Webinar: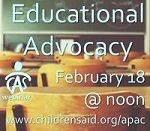 All children deserve a quality education that provides them the opportunity to be productive adult citizens and some children need additional supports in education to ensure that they are successful. These services for children with qualifying disabilities can be provided through special education and 504. Families can ensure their children receive appropriate supports by understanding educational opportunities under these laws. Effective advocacy is a means to accessing appropriate supports for children in school settings.
This webinar, "Skills for Effective Educational Advocacy", will assist parents including foster and adoptive, and professionals supporting families with the skills for effective parent advocacy.
Learning objectives:

1. Explore what advocacy means
2. Discuss how to improve advocacy skills
3. Examine how advocacy can make a difference in the services provided to a child
4. Provide a brief understanding of special education, 504, and educational policy and practice.
Wednesday, February 18, 12:00pm-1:00pm (CST)
(Optional Q&A: 1:00-1:15pm)
Click HERE to register for our next webinar, "Skills for Effective Educational Advocacy"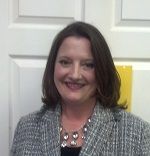 Jeanna Winter is the co-founder and Executive Director for the Alabama Parent Education Center Inc.  The center's focus is to provide training, information, and support to increase capacity of families and those who serve families  Ms Winter has worked in education and disability advocacy since 1997.  Ms. Winter holds a Bachelor of Science in Rehabilitation, Troy University and a Master of Science in Community/Agency Counseling, Troy University of Montgomery.  
If you have webinar questions, please contact our training staff at training@childrensaid.org.
---
Note: CAS is an approved CEU provider by the  Alabama Board of Social Work Examiners (CE Provider #0039). 
Children's Aid Society is an NBCC-Approved Continuing Education Provider (ACEP) and may offer NBCC-approved clock hours for events that meet NBCC requirements. The ACEP is responsible solely for all aspects of the program. 
(NBCC Provider #6459)