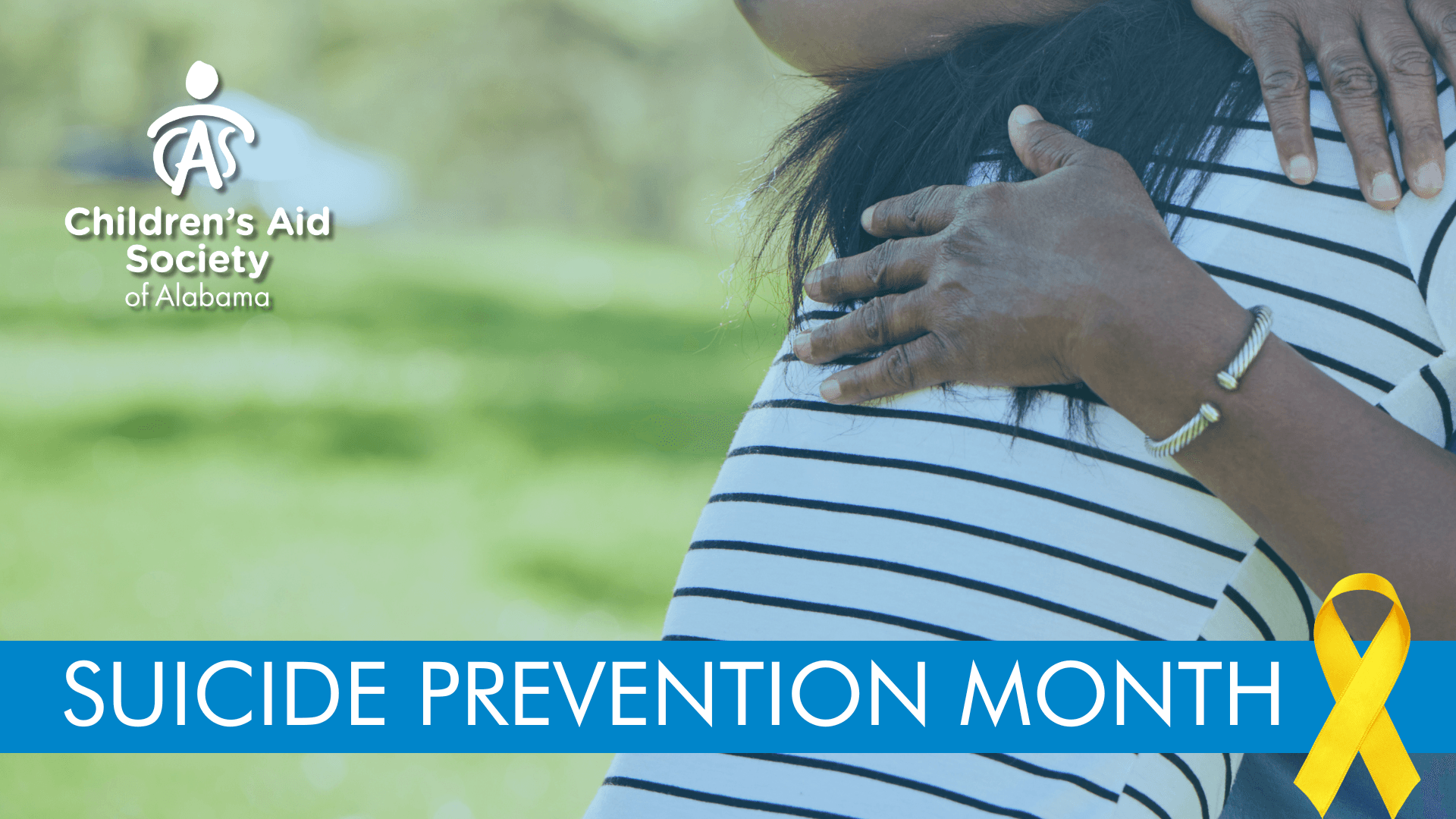 September marks National Suicide Prevention Month, Children's Aid Society of Alabama, advocates tirelessly for the well-being of children, young adults, and families across Alabama. As such, we stand by our community in recognizing that suicide can affect anyone, regardless of age, gender, or background. In the United States, suicide ranks as the tenth leading cause of death, but more staggeringly, it is the fourth leading cause of death in young people ages 15 - 29. However, for many children and young adults, who have already faced the challenges of foster care, adoption, or homelessness, the weight of feeling alone or at risk can be especially heavy. Studies have shown that "social support can mitigate the long-term negative consequences associated with child maltreatment, protecting against mental illness and suicidal behavior," among our vulnerable children.
Suicide is pervasive, and cuts across all demographic borders. By the close of 2022, 49,449 Americans lost their lives to suicide. Forty-six percent of people who've died by suicide, regardless of gender, had a diagnosed mental health condition. This brings to light the importance of accessible mental health resources in all of our communities. Though suicide does not discriminate, it is growing rapidly among certain populations. Johns Hopkins shared an alarming report last month, Black youth have the fastest-growing suicide rate compared to their peers of other racial and ethnic groups. Additionally, the LGBTQ+ community is measurably impacted by suicide. In 2021, LGBTQ+ youth who reported having been in foster care had three times greater odds of reporting a past-year suicide attempt compared to those who had not been in foster care. Startlingly, transgender teens are 7.6 times more likely to attempt suicide when compared to their heterosexual peers.
To be honest, I had never personally encountered the ravages of suicide until earlier this year. A close family member, my nephew, a successful student at the University of Alabama, died by suicide just months before his graduation and the start of a new chapter. We may never fully understand what led to this tragedy, but we do know that his story echoes in countless families across our nation every day.
There are numerous supportive resources available, and there are people who care. Crisis hotlines like the 988 Lifeline. Further, the Alabama Department of Mental Health has created an Alabama Crisis System of Care. The National Association of Mental Illness (NAMI) shares information about warning signs and suicidal ideation, as well as provides vital care and counseling for those dealing with mental health issues or thoughts of suicide. Our online training website also hosts an informative, free on-demand suicide prevention webinar. There are also resources available specifically for the adoptee community, and transracial adoptees. Navigating a mental health crisis can be challenging, but our children, young adults, families, and clients do not have to face it alone. While September is a month of awareness, we must remember that every day is an opportunity to help those battling suicidal thoughts or mental health crises.
I pray that no family must ever endure the pain of losing a loved one to suicide. Sadly, thousands of families this year alone will receive that heartbreaking call. A loved one who may have silently struggled for years will have died by suicide. I urge you to learn the warning signs and be prepared for a crisis. You never know when you - or someone you love - might need to support a family member, friend, colleague, or even a stranger through the challenges of mental health issues, through awareness we can emerge stronger together. Be Informed. Be Supportive. Suicide affects us all, but we can all play a role in comforting those in need. Together, we can make a difference.
- John Stone, Director of Advancement