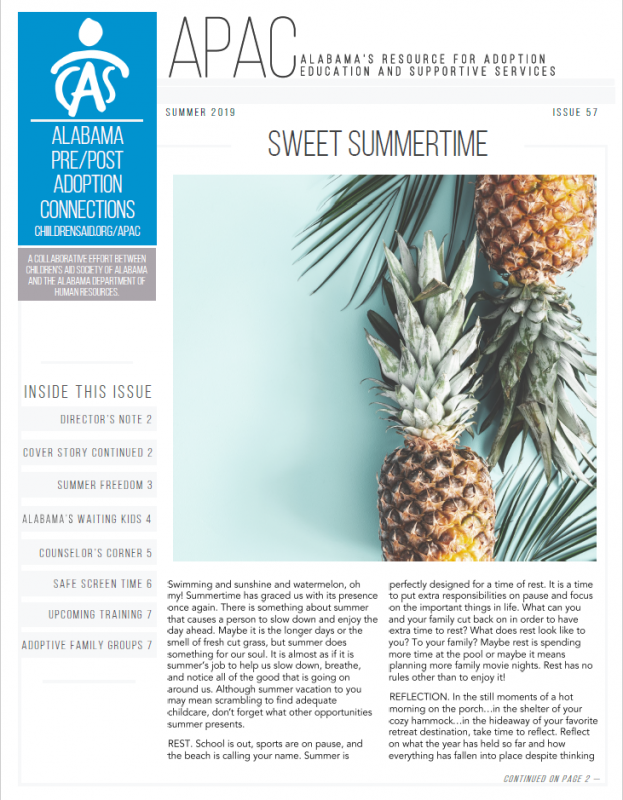 APAC Newsletter - Issue 57
"Sweet Summertime"
July 2019
A note from our Director:
Welcome to the latest edition of our APAC Newsletter! We are thrilled to share this new installment of our APAC Newsletter, Issue #57 with you. It's all about "Sweet Summertime." Click on the link above to read the many articles, and see our upcoming events listed in our summer news!
Warm summer days bring a sweet window of time for fun, family activities, and the opportunity to spend more purposeful time together. Imagine catching lightning bugs, blowing bubbles or taking a trip to the local Farmer's Market for fresh fruit and produce; family time can be anything you and your family want it to be. Another way to connect is to unplug; create "technology-free time" and explore more intentional and focused family experiences. We hope you and your family find many new and fun ways to enjoy creating lasting memories together.
We want to thank our partners, the Alabama Department of Human Resources Office of Permanency, Heart Gallery and AFAPA. We express our gratitude for the sixty-seven county DHR offices we have the honor of working with as we all serve the precious children of our state.
Be a part of finding forever families for Alabama's waiting children. You might know someone who is thinking about adoption or you would like some brochures to share. Contact us at apac@childrensaid.org, or call 866-803-2722.
- Suzie Diamond, LICSW, PIP
APAC Program Director