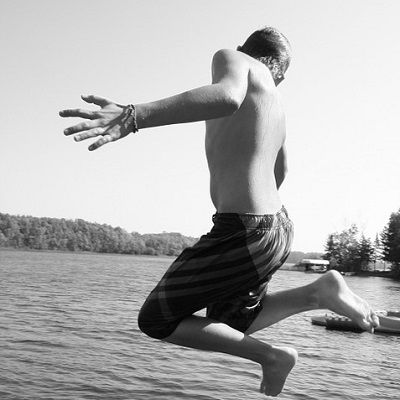 It's a wrap on our first day at camp! The kids arrived with enthusiasm today to sunny weather in the high 80's! They loaded off the bus, and out of their family vans and checked in for camp around 2 PM! Campers received their CAS Camp APAC logo backpacks, water bottles, a name tag (lanyard) and a schedule. They also met with the nurses to drop off any medications and to have a quick temperature check. Then, it was off to their cabins for unrolling their sleeping bags and unloading their bags. And meeting the team of staffers and new bunk mates that they will be spending time with for the rest of the week!
After settling in, the campers changed into their swim clothes and headed to the all-time favorite camp activity: the lake! It was around 3:30 PM today when they started taking swim tests and hearing from the lifeguards on the waterfront rules and safety. Camp Chandler is a YMCA camp with trained and qualified lifeguards on duty at all times and they have a tight system, and a large team of workers looking out for the safety of our campers. They are great at keeping everyone safe, and helping them have fun in the sun.
The swim test is a pretty fun adventure for the campers who are ready to swim out to the short section of deeper water just beyond the pier. It's also their first opportunity to jump in the lake! It's not for everyone, but for those who are interested they can line up and climb down a ladder or jump into a section of water beside the pier for the water test. They must swim around a large rectangle without support or intervention from staff, while about a dozen life guards are with them in the water at all time coaching them and cheering them on, and another life guard walks by them from the deck monitoring that they are ready for active swimming. Many of our campers are young and still learning to swim, but there are plenty of activities that beginner swimmers can do without having to pass the swim test. With life jackets on, they can ride the boats, canoe, jump from "The Blob," and splash around in the shallow water, just to name a few!
As the sun began to set on day one, it was time for their first meal at camp! Yup, Chicken Fingers and Macaroni and Cheese, ya'll. And after the warm afternoon in the sun, they were certainly digging in! Camp Chandler is also mindful of food allergies, and special accommodations for all of our campers and will go to great lengths to make options available! PB&J's and a big salad bar are available to all of the campers at each meal. And, plenty of portions! The dining hall is also a pit stop at each meal for refueling canteens with water and ice! Staffers make sure the campers are packed with plenty of water for the next set of adventures.
Tonight we had a special little extra treat during dinner, our camp photographer, Hannah Taylor, loaded up the photos from the afternoon and shared them on the big screen in the cafeteria. Their smiles were like light bulbs all day!
Since tonight is our campers' first night together, its a bit of a low key, get-to-know-you kind of evening. (We are saving the best for last, on Thursday night with a big event!) We wanted them to spend some time building relationships and learning a bit more about their new group. They are coming up with team names, and themes and painting a flag together to represent their group this week. They will also learn what it means to have the Camp APAC "Spirit" – Sharing, Participation, Inspiration, Respect, Including Others, and Teamwork. How fun!
Tomorrow, a big day is planned, but first group photos by the flagpole, then Bacon and Eggs are on the schedule for breakfast!
Stay tuned to the blog this week for more great adventures at Camp APAC!! www.childrensaid.org/campapacblog
Check out our Facebook Page for more photos and updates from Camp APAC: www.fb.com/childrensaid
Feel free to email us your comments or questions, at campapac@childrensaid.org