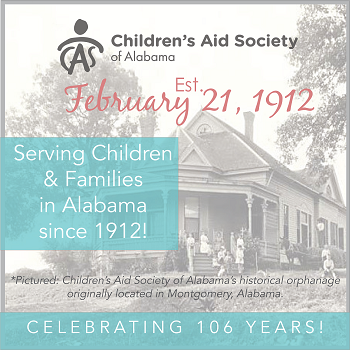 On this day in 1912, Children's Aid Society of Alabama was established as the leading non-profit in Alabama, serving families and children. Today, we are celebrating 106 years in our continued mission of changing lives, building families, strengthening communities.
Our Chief Executive Officer, Gayle Watts, shared recently during our annual celebrations about her journey in serving our agency for over 20 years, and how very special this day truly is. Not only was CAS established on February 21, Gayle discovered her adoption was finalized in Alabama on this day as well! And, our former CEO, Joyce Greathouse, shared a birthday on this day! So many incredible coincidences surround this special day that tie our roots together. Much like the lives that we are honored to encounter over the years through our service. Our roots run deep in the communities we support, and in the connections that are made in our partnerships.
Did you know?
--CAS helped care for children in need before the existence of the Alabama Department of Human Resources.
--In 1917, CAS organized as the "Alabama Children's Aid Society" to serve as a state-wide organization.
--In 1924, the Children's Aid Society became part of the Community Chest Fund, what is now United Way of Central Alabama.
--One of our former Executive Directors, Will Gaines Holmes, also was born in 1912, and would have been 106 this year.
So many families are together and stronger because of the legacy of CAS! Join us in celebrating 106 years of service in Alabama today!
We are gratefully accepting gifts: http://bit.ly/donate2cas