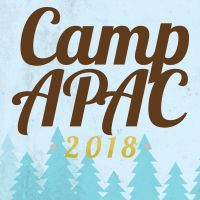 It's that time of year again!! Camp APAC is opening its registration for the 2018 camp season! Adoptive families living in Alabama are invited to be a part of our annual Camp APAC, planned for June 12-15, held at the beautiful Camp Chandler in Wetumpka, Alabama.
This wonderful event is for adopted children ages 9 to 18, along with their siblings (birth and foster siblings living in the same household) who are connected to DHR (i.e. at least one camp applicant must be adopted from foster care). Children in permanent custody of DHR with a plan of adoption by their current placement are also eligible to attend. Limited slots will also be available for non-DHR connected families at a cost of $175 for these 4 great days of fun!
Camp APAC staff includes social workers and other trained and qualified adults to work with and supervise your child around the clock. Licensed nurses are also on duty to administer medications and provide for any medical needs that may arise.
What Parents have said:
Parents of our campers benefit from a 4 day respite, while their children enjoy the camp experience. They have also been very thrilled to tell us about how camp impacted them and their child's life. Here's a few things they have shared with us:
- "My children came home with wonderful stories of the fun and friendships they had at camp. Thank you for such a great opportunity for them and for us as parents to have a little break."
- "This was our son's first camp experience. He did enjoy himself!"
- "Our three children had a fantastic time at camp and they hope to attend again in the future. It was a very positive experience for them especially to be around kids just like them. My older son exchanged Facebook information with a camper in his cabin that lives in our area, and they have been communicating. We are so happy they could attend this year. We appreciate all the hard work and efforts by so many to make the week of camp a success!"
What Campers have said:
Our campers always thrill us with their responses to our end of the week camper survey. Here's what they've had to say:
- "It was nice knowing someone like me."
- "I met people who were nice and who have been through adoption."
- I enjoyed meeting others because, "I was scared and they helped me open up."
- "I got to experience new things I didn't know."
- "It's nice to know that I am not alone in being adopted."
Camper Application:
We would love to have your children join us this year as new or returning campers for Camp APAC! Camper applications will open on January 15 and be submitted by February 12. Click here for more information or to register: www.childrensaid.org/campapac. If you have any questions about Camp APAC, please contact us at campapac@childrensaid.org or 866-803-2722.