APAC Webinar- Creating Safer, Braver Spaces for our Kids: Allyship, Parenting, and Professionalism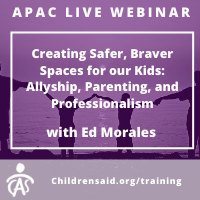 DESCRIPTION:
Families impacted by adoption face a world that is charged with racial injustice, persistent disparities, and unsure futures. Many adoptive families are transracial, and all adoptive families are transcultural. How do we as parents and professionals create safer, braver spaces for our kids and ourselves to confront the biases and systemic injustices that have suppressed the futures of so many?
In this webinar, we will explore the vital importance of confronting systemic bias as parents and professionals who work with system-involved children and their families. Through lecture, video and personal reflection, we will discuss how systemic bias places limits on our children, how it works to exclude them from many areas of society, and how we can be vital links in changing the narrative. Join us to learn about the latest research and testimony regarding the role of parents and professionals in championing more just societies, and leave with concrete strategies to create more peaceful, compassionate spaces our communities.
OBJECTIVES:
1. Participants will be able to discuss how bias in society impacts system-involved children and their families
2. Participants will be able to describe the necessity of leaning into difficult conversations around bias
3. Participants will be able to identify 3-5 key strategies they can use to create safer spaces for children in their care and community
SPEAKER:
Ed Morales Since 2011, Morales has worked with more than 1,000 kids and their families, first as a school social worker, then as a school-based therapist, and now as a trainer, parent, and educator who has partnered with more than two dozen agencies and organizations across the United States to provide training and consultation on children's mental health, managing challenging behavior, and implicit bias.
Ed works as a Trainer with the Minnesota Child Welfare Training Academy and as a social worker with Children's Hospitals and Clinics of Minnesota, serves on the Minnesota Subcommittee on Children's Mental Health, and is a member of the community faculty at the University of Minnesota School of Social Work. Ed is the founder of Socorro Consulting and Training, an organization dedicated to creating a more peaceful, compassionate world for young people and their families. The transracially adoptive parent of two remarkable sisters, Ed lives in North Minneapolis with his family.
REGISTRATION and CONTINUING EDUCATION:(1. Ethics house for Social Work and Counseling)
As with all of our APAC services and events, admission to this training is FREE for all attendees and this includes a General Certificate of Attendance for foster parents and other attendees seeking attendance verification. Professional Social Work and Counseling CE verification can be purchased for $10 for live participation.
Participants must attend the entire webinar to qualify for continuing education verification. (Minimum of 75 minutes to account for possible technical difficulties or delay.)
You will be provided a link to join the webinar but also an audio number in the event you do not have computer speakers/audio. Participants who only join through the phone number only will not be eligible for continuing education verification.
NOTE: The CE fee is waived all Alabama DHR staff.
Cancellation Policy: In the event you cannot attend the live webinar, notify us at training@childrensaid.org before the conclusion of the training and we can issue a refund for continuing education cost. Unfortunately, we cannot issue credits for future events.
Social Work self-study CEs for this course will soon be available in the APAC Online Training site for $15.
CAS is an approved Continuing Education Provider for ABSWE (#0039).
Children's Aid Society is an NBCC-Approved Continuing Education Provider (ACEP) and may offer NBCC-approved clock hours for events that meet NBCC requirements. Children's Aid Society is responsible solely for all aspects of the program.
(NBCC Provider #6459)
If you have questions, please contact our training staff at training@childrensaid.org, or call 866-803-2722.