APAC Webinar- Supporting Families Through a Pandemic with Sue Badeau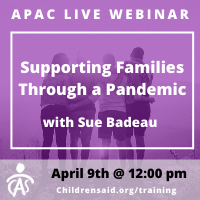 DESCRIPTION:
As a professional in child welfare, we must continue our respective missions, address a wide array of demands from the families we support, follow all agency regulations and policies, and keep up with the proper paperwork at the same time. In recent times, with the onset of Coivd-19, we are finding we must do all of this and more without our usual resources, tools, and approaches. How do we as child welfare workers and clinicians ensure that we are able to provide families with the support they need and give them encouragement as they seek to care for the children in their homes? This webinar will provide practical tips and tools for social workers and counselors on the front lines.
OBJECTIVES:
1) Gain understanding of how this world-wide health crisis impacts families and children in the child welfare system
2) Be able to list and use 5 practical tips for remotely supporting families when in-person visits are not allowed or advised
3) Gain information on how to help parents adapt trauma-informed parenting strategies to talk to children about their fears and concerns during this crisis
SPEAKER:
Sue Badeau is a nationally known speaker, writer, and consultant. She is a Past President of the North American Council on Adoptable Children and Justice for Families and has worked closely with the National Child Traumatic Stress Network, the National Council for Juvenile and Family Court Judges, Casey Family Programs and the Pew Commission on Children in Foster Care. Sue and her husband, Hector, are lifetime parents of 22 children, two by birth and 20 adopted and have also served as foster parents and kin caregivers to more than 75 children. They have authored books on permanency and trauma including, Are We There Yet: The Ultimate Road Trip, Adopting and Raising 22 Kids, Building Bridges of Hope: A Coloring Book for Adults Caring for Children Who Have Experienced Trauma, and the child's companion version, Bubbles and Butterflies, both illustrated by their daughter Chelsea Badeau.
REGISTRATION and CONTINUING EDUCATION:
As with all of our APAC services and events, admission to this training is FREE for all attendees and this includes a General Certificate of Attendance for foster parents and other attendees seeking attendance verification. Professional Social Work and Counseling CE verification can be purchased for $10 for live participation.
Participants must attend the entire webinar to qualify for continuing education verification. (Minimum of 45 minutes to account for possible technical difficulties or delay.)
You will be provided a link to join the webinar but also an audio number in the event you do not have computer speakers/audio. Participants who only join through the phone number only will not be eligible for continuing education verification.
NOTE: The CE fee is waived all Alabama DHR staff.
Cancellation Policy: In the event you cannot attend the live webinar, notify us at training@childrensaid.org before the conclusion of the training and we can issue a refund for continuing education cost. Unfortunately, we cannot issue credits for future events.
Social Work self-study CEs for this course will soon be available in the APAC Online Training site for $10.
CAS is an approved Continuing Education Provider for ABSWE (#0039).
Children's Aid Society is an NBCC-Approved Continuing Education Provider (ACEP) and may offer NBCC-approved clock hours for events that meet NBCC requirements. Children's Aid Society is responsible solely for all aspects of the program.
(NBCC Provider #6459)
If you have questions, please contact our training staff at training@childrensaid.org, or call 866-803-2722.