APAC Webinar: Crisis Intervention Part II: Practical Strategies for Crisis Planning and Placement Stability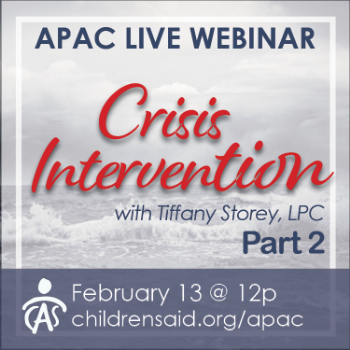 DESCRIPTION:
The journey for foster and adopted children, their caregivers, and the supportive professionals can seem like a runaway train at times. This journey is often filled with heart-warming connection and heart-wrenching pain (often at the same time) and this ambiguity and volatility can often create crisis for all parties involved. How each party understands and relates to moments of crisis is the number 1 factor in how well we get through it gracefully with the least amount of "collateral damage." This 2-part webinar series will take a closer look at crisis so we can perhaps not only better navigate it but also prevent unnecessary crisis. NOTE: Although the January and February webinars flow together in a logical sequence in two parts, they are stand-alone trainings and part one is not required to view part two. This session will review some of the foundations discussed in Part 1 but will also provide more practical planning strategies to promote overall stability for youth and families.
Objectives
1. Participants will learn to identify risk factors, signs and symptoms of crisis and levels of crisis development
2. Participants will learn communication, decision-making and intervention strategies to safely de-escalate children and adolescents experiencing behavioral crises.
3. Participants will learn protective factors as well as postvention strategies to prevent future crisis
SPEAKER:
Tiffany Storey, LPC is a licensed professional counselor with 17+ years' experience working with families and adolescents in community service and outreach programs. She graduated from Berea College in 2004 with a Bachelor of Science in Business Management. In 2013, Tiffany received her Master's of Science in Mental Health Counseling from Walden University. Tiffany is passionate about providing adolescents and their families the best support to manage challenging life issues. She has done this through intensive residential psychiatric care, outpatient therapy as well as consultation, psychoeducation and group therapy with local public school systems. Tiffany offers expertise and experience in crisis intervention, trauma-informed care and CBT as well as program development. She currently serves as the Project Independence Program Director at Children's Aid Society of Alabama. Tiffany truly believes, "It takes a village and positive relationships" to raise healthy and resilient children.
REGISTRATION:
As with all of our APAC services and events, admission to this training is FREE for all attendees and this includes a General Certificate of Attendance for foster parents and other attendees seeking attendance verification. Professional Social Work and Counseling CE verification can be purchased for $10 for the live participation.
NOTE: The CE fee is waived all Alabama DHR staff.
Social Work self-study CEs for this course will soon be available in the APAC Online Training site for $15.
CAS is an approved Continuing Education Provider for ABSWE (#0039).
Children's Aid Society is an NBCC-Approved Continuing Education Provider (ACEP) and may offer NBCC-approved clock hours for events that meet NBCC requirements. Children's Aid Society is responsible solely for all aspects of the program.
(NBCC Provider #6459)
If you have questions, please contact our training staff at training@childrensaid.org, or call 866-803-2722.