Adopting Waiting Children from Foster Care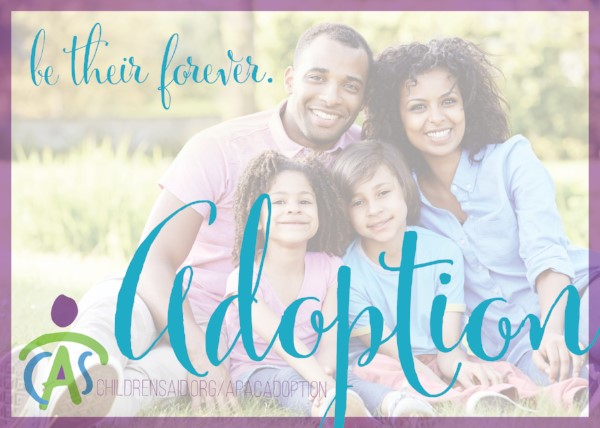 Are you considering adoption? APAC recruits, prepares, and supports adoptive families for children in foster care: children ages 5 and older; sibling groups being adopted together; or children with certain physical, cognitive, or behavioral challenges. Currently, hundreds of children in Alabama foster care are awaiting their forever family. Our free services include TIPS training and home study preparation. Also, our Family Advocates will provide intensive education and support for families planning for placement and adjusting as a new family. APAC is ready to partner with your family throughout the adoption journey!
---
Adoption Orientations
Adoption Orientations are the first step of the journey, and a great way to find out more about adoption. Hosted by our trained adoption experts, our orientation introduces families to what to expect when adopting from Foster Care in Alabama.
APAC offers four convenient orientation options for families:
   1. On-demand Video (An instant access video on our site you can watch at your own pace.)
   2. Phone Orientation (A pre-scheduled, individual phone call.)
   3. Face-to-Face (A pre-scheduled group event, hosted at various locations throughout the state.)
   4. Live Webinar (A pre-scheduled online webinar, hosted at various times throughout the year.)
There are no requirements or obligations in attending any of our orientation events, or online or phone sessions. APAC's adoption support team will be available to meet and greet with parents and to share all about the next steps. After attending a session, our adoption team will help you prepare for the application, training, and preparation process which are free support services to prospective parents living in Alabama interested in partnering with APAC and adopting Alabama's Waiting Children.
---
On-Demand Video Orientation
Interested in learning more about adoption right now? We're ready to help! Click here to access our free, on-demand, Adoption Orientation. This short video is packed with information parents need to know about starting the adoption journey in Alabama.
---
Face-to-Face Orientations
Check out our upcoming orientation sessions. If you do not see any listed, call us to find out when the next sessions will begin. For more information or to register, email apac@childrensaid.org or call 866-803-2722.
---
Phone Orientations
If you not able to make it to any of our events or if for some reason you are unable to view our online webinar or on-demand video, our team are ready to offer a phone orientation for your convenience. Email us at apac@childrensaid.org or call 866-803-2722, to schedule a phone orientation with one of our adoption support team members.
---
Questions about adoption?

We are here to help! For more information about adoption in Alabama, contact 866-4-AL-KIDS (866-425-5437) or email apac@childrensaid.org