The Alliance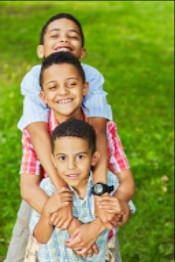 The Alliance is a joint effort among partner agencies through which children and families referred by the Department of Human Resources receive intensive in-home support services. CAS, Gateway, Glenwood, and Agape of Central AL (The Central AL Alliance) provide services to families in Jefferson County and south Alabama. CAS, Gateway, Agape of North AL, and Childhaven (The North AL Alliance) provide services to families in Madison County.
Continuum of Care The continuum model, funded until September 2011 and now provided through Circles of Care, allowed for continuity of care with the same service providers from the client's admission through discharge and aftercare. Clinical work was based on a family-centered, child-focused approach in which family members were involved in all decision making and were seen as the "experts" on what is needed to provide a safe, stable home for their family. Services were provided in Jefferson, Madison, and Mobile Counties.
Wraparound Families with a history of substance abuse, poverty, unemployment, unstable housing, lack of education, untreated mental disorders, or a lack of support networks receive intensive, in-home services designed to preserve the family unit. Services are provided in Jefferson County.
Stabilization, Treatment, Appraisal, & Reunification (STAR) and Therapeutic Foster Care (TFC) Youth with severe behavioral or emotional needs are thoroughly assessed within the context of a foster home, and the best plan for their long-term care is developed by the team of Alliance partner social workers. Children who benefit from STAR, but need additional treatment, are transitioned into TFC, remaining with the family who gives them the unconditional care they need to remain in the community. Services are provided in Jefferson County.
2013 Outcomes
•565 individuals served 85% of school-age children and teens served by the Alliance's STAR and TFC programs demonstrated an improvement in social and/or psychological functioning as a result and most of these children and youth were able to be moved to a less restrictive level of care.
For more information about our Alliance Programs, contact Ashley Adams at 205-271-1728 or aadams@gway.org.
---