Overview of ILP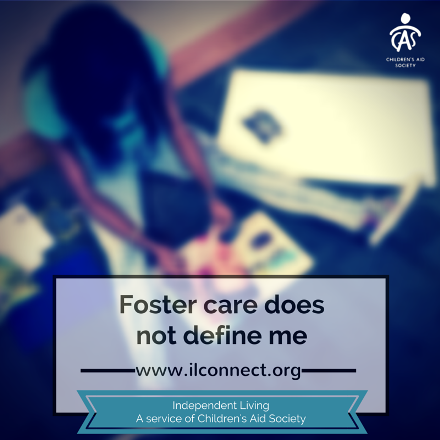 Independent Living Programs
With the support of DHR, we launched a service in 2010 for older youth who are in foster care and close to leaving the care of the public child welfare system. In our field of service, we refer to this as "aging out" of the system. We acknowledge that most young people who have grown up in the best of situations are not prepared to launch independent and successful lives at age 19, and many young adults are a part of their families' households well into their 20's.
CAS provides a variety of services for Independent Living (IL) youth and the professionals who serve them.
---
Hear what one youth had to say about our program:
"I have been in foster care for a long time. While in care I did not think what I wanted for my life mattered…I did not think people would value my opinions about me…I did not think I had a voice about anything related to my present situation or my future. About four years ago, I became active with the Youth Leadership Team and started attending Camp Life. Not only did I learn my life mattered and that I was like "normal teenagers," but I also learned that I have a voice and what I thought and wanted for my life was important. I used to hate being in foster care…some days I still do…but the skills I have learned at the camps and leadership trainings have given me the confidence to advocate for myself and others in foster care like me."
---
Independent Living Services
Camp Life
Each summer we host a camp for up to 100 IL youth for campers ages 14 -20 years old.
Activities of the camp build self-confidence and independent living skills among youth. Campers will participate in closely supervised activities within their small group such as a ropes course, team building activities, talent show, boating, mini golf, field games, and others as a group. All camp activities will provide opportunities for campers to develop relationships with their group leaders and other group members in order to trust and understand each other.
Click here to learn more Camp Life 2017!
---
IL Connect
IL Connect is a platform for increasing and improving the communication among IL youth across the state and IL county workers. At the last IL Staff Network Conference, county workers were provided the opportunity to share their concerns and needs to better serve the IL youth in our state. A common theme was the need for improved communication from SDHR and county offices and among county staff across the state regarding policies, ideas, resources, etc. Policies are being interpreted differently in different counties and county staff expressed a desire for a way to share these ideas with each other. Additionally, IL youth have a need to share resources and ideas with each throughout the state and be informed of what is available to them.
CAS is implementing a variety of methods to improve this communication including a website for youth, professionals and parents, print materials and a statewide texting system.
Click Here To Visit The IL Connect Website
---
IL Worker Conference
Each year we host a statewide IL staff networking conference. One hundred slots are designated for DHR county and state office staff, provided at no charge to DHR staff. Other professionals in the state who work with IL youth, such as residential providers, IL contract providers, and other private professionals are also be able to attend for a nominal fee.
The purpose of the conference is to increase the independent living knowledge of DHR staff and other professionals, as well as to provide scheduled, coordinated activities for networking and learning from peers. The speakers are a combination of a nationally known speakers, regionally known speakers, youth, SDHR staff, CAS staff, county DHR staff, and others in the field.
Click here to learn more and register for the 2017 conference!
---
For more information about our ILP services, please contact Ebone Watkins at ewatkins@childrensaid.org or 205-943-5345.
---