Overview of Camp APAC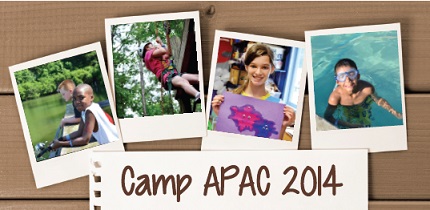 Alabama Pre/Post Adoption Connections (APAC), a collaborative program of CAS and Alabama DHR, would like to invite your family to be a part of our 11th Annual Camp APAC. This wonderful event is for adopted children ages 9 to 18, along with their siblings (birth and foster siblings living in the same household). Children in permanent custody of DHR with a plan of adoption by their current placement are also eligible to attend.
We're moving! This year's camp will be held June 17-20 at YMCA Camp Chandler in Wetumpka, Alabama. The amenities at Camp Chandler are outstanding and sure to enhance the fun and safe environment provided for each camper! You can learn more about Camp Chandler by visiting www.campchandler.org.
Camp APAC is completely free for all adoptive families with at least one camper applicant adopted from foster care. If space allows, families who have adopted through avenues outside of the DHR system can apply for only $250 per camper for 4 great days of fun!
Camp APAC staff includes social workers and other trained and qualified adults to work with and supervise your child around the clock. Licensed nurses are also on duty to administer medications and provide for any medical needs that may arise.

Camper application deadline has passed.
CAMPER ACCEPTANCE:
Camp APAC camper acceptance is prioritized by several factors. They include consideration of camp budget constraints and a balanced population; ratio of age, gender, county of residence, type of adoption (public/private) and racial diversity.
Camp APAC is designed for all children, regardless of special needs. Children with physical, mental or developmental difficulties are encouraged to apply. However, consideration for acceptance is weighed based on staffing patterns and needs when one-on-one special care or attention is required.
---

STAFF APPLICATIONS:
Staff application deadline has passed.
---
If you have any questions about Camp APAC, please contact us at campapac@childrensaid.org or 866-803-2722.
---